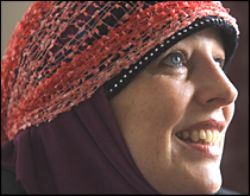 The Ara­bic lan­guage is one of the cor­ner­stones of Islam, as we have heard today from our broth­er, so I do apol­o­gize in advance that this is one of the many areas of Islam I've yet to mas­ter. Islam­i­cal­ly, I am very young, hav­ing revert­ed in 2003. And while I have much to learn I can iden­ti­fy with the frus­tra­tions shared by young Mus­lims today. I know 9⁄11 had a huge impact on the world, but it wasn't real­ly the start of some­thing. It was the con­tin­u­a­tion of a lega­cy of US impe­ri­al­ism and its fear of Islam.
Just over ten years ago, fit, young Mus­lims across the globe flood­ed into Bosnia to help their broth­ers and sis­ters fight for their sur­vival against the Serbs who were car­ry­ing out a geno­cide sanc­tioned by the silence of a watch­ing world. The jihad brought togeth­er Mus­lims from all nation­al­i­ties, sta­tus and cul­ture. All were unit­ed ; even those who could not trav­el to fight helped in oth­er ways such as fund-rais­ing, pub­lic aware­ness events and demon­stra­tions. The impact was to stop the geno­cide. West­ern inter­ven­tion, when it hap­pened, came only after it was appar­ent that that the Bosn­ian Mus­lims were head­ing for vic­to­ry. The estab­lish­ment of an Islam­ic state deep in the heart of Europe was sim­ply too much to bear and so the West inter­vened. This is not my con­clu­sion, but US Pres­i­dent Bill Clin­ton admit­ted it in his auto­bi­og­ra­phy.
This fear of Islam has now evolved in the last 10 years to such an extent that the blood of our broth­ers and sis­ters is now flow­ing like rivers across Chech­nya, Kash­mir, Pales­tine, Afghanistan, Iraq and we saw recent­ly what hap­pened to Lebanon. I have walked through many of those killing fields and let me tell you the twist­ed, blown up limbs of our Mus­lim broth­ers and sis­ters look exact­ly like those pulled from the rub­ble of the Twin Towers.
Yet the mes­sage of today is quite clear. Mus­lim blood is a cheap com­mod­i­ty. Mean­while tens of thou­sands of inno­cent Mus­lims con­tin­ue to be tor­tured in far away dun­geons and cages in Guan­tanamo Bay, Bagram air­base in Afghanistan, Abu Ghraib, Diego Gar­cia and ghost pris­ons through­out the world. Oth­ers are tor­tured in Syr­ia, Jor­dan, Moroc­co, Tunisia, and Alge­ria and even here in Egypt. Broth­ers are being tor­tured at the behest and request of the Unit­ed States.
So what sort of mes­sage does that send out to our young people ?
They read about the hero­ic exploits of Salahud­ddin Ayy­oubi, Khalid bin Walid, Tariq bin Ziad and lis­ten intent­ly to sto­ries of courage and brav­ery about our beloved Prophet Muhammad.
Do you know, five years ago I had nev­er even heard of the Prophet, but now I would give my last drop of blood to pro­tect his name, his hon­our and his mem­o­ry. Even in death he con­tin­ued to show how strong he was by unit­ing the Ummah in protest at those vile car­toons from Den­mark. Our mod­ern-day heroes include those two six­ties mar­tyrs, Mal­colm X and Sayyid Qutb, both whose writ­ings have helped define me as a Mus­lim. These are the sort of role mod­els and influ­ences our youth need to fol­low, but instead they receive con­fused and mixed messages.
One minute they are told to fear no one but God Almighty, while the next minute they are told to dilute their Islam and keep their heads down. Since the events of 9 – 11, there has been an unre­lent­ing cam­paign launched to change Islam into some­thing more palat­able to West­ern soci­ety. The vision is a sec­u­lar and cul­tur­al Islam at peace with the world through her sub­mis­sion to her oppres­sors rather than to God Almighty ; an Islam devoid of jihad, shari­ah and khi­lafah ? The very things we are com­mand­ed by God Almighty to imple­ment in order to estab­lish Allah (T)'s deen on this earth. And it is in evi­dence every­where I look. Hijab are being ripped off the heads of my sis­ters in Tunisia, France and Turkey. Sis­ters in Hol­land and Ger­many are also in the fir­ing line.
Amd in Britain, we have Jack Straw, the for­mer British For­eign Sec­re­tary who ques­tioned the veil ? I am not hav­ing a white, mid­dle-aged man telling me how to dress. Keep out of my wardrobe and that of every sis­ter on this plan­et. I pick up the news­pa­pers in Cairo today to dis­cov­er the Min­is­ter of Cul­ture has called the wear­ing of the veil a regres­sion. How dare he say that ? Why are the men in Egypt stand­ing by and doing noth­ing to silence him ? He is insult­ing the hon­our and dig­ni­ty of every Mus­lim woman who choos­es to cov­er. Farooq Hos­ni is a dis­grace to Islam. What sort of mes­sage does he send out to our young peo­ple with his weasel words ? The niqab, like the veil, like the hijab has become a sym­bol of a rejec­tion of those neg­a­tive West­ern lifestyles like drug-tak­ing, binge-drink­ing and promis­cu­ity. It is a state­ment telling the West we don't want to be like you.
These Arabs who choose to be more west­ern than West­ern­ers make me laugh. Do they real­ize how pathet­ic they look in the eyes of the rest of the world ? This Min­is­ter should be sacked from his post for dis­hon­or­ing every sis­ter who choos­es to cov­er. I sup­pose he hides behind such descrip­tions as mod­er­ate ? Again, what sort of mes­sage does that send to our young peo­ple ? If we ask them to be mod­er­ate does that not sug­gest that there is some­thing wrong with Islam that it needs to be toned down, dilut­ed ? The last time I came to Cairo, I was called an extrem­ist by none oth­er than the Sheikh of Al-Azhar, Sheikh Tanta­wi. The rea­son for this ? Because I would not shake his hand. What is a mod­er­ate and what is an extrem­ist ? I real­ly don't know. I am a sim­ple Mus­lim. I fol­low no schol­ars or sects, I mere­ly fol­low The Prophet and the Sun­nah. Does that make me an extremist ?
I once said being a Mus­lim is a bit like being preg­nant. You are or you are not. Who­ev­er heard of any­one being mod­er­ate­ly or extreme­ly preg­nant ? Islam has been under attack for 1400 years and we should have learned by now to put our trust in no one but Allah (T). Yet there are those who con­tin­ue to kiss the hand which slaps them. I am afraid that we can no longer put our trust in to some­one just because they might wear Islam­ic dress or have a long beard ? I notice quite a few long beards in here today, but I am not refer­ring to you, broth­ers. There are those Mus­lim lead­ers who claim to guide and pro­tect us but not all of them have our inter­ests at heart. Our young peo­ple are going to have to be very dis­cern­ing since the events of 9⁄11, Bali, Madrid and the Lon­don Bomb­ings, to name a few.
There are indi­vid­u­als who for years ral­lied the mass­es to stand up for jus­tice and sup­port mujahideen groups around the world and now some have become embar­rass­ing­ly silent while oth­ers con­demn armed jihad, por­tray­ing mujahideen as ter­ror­ists and extrem­ists who fol­low a dis­tort­ed ver­sion of Islam. In some ways we are all to blame. Our great­est shame has been our silence while mar­tyr­dom oper­a­tions in Pales­tine and oth­er occu­pied lands have been con­demned as acts of ter­ror as wit­nessed in 9⁄11 and the July 7 bomb­ings. Our young peo­ple have to be taught that what is hap­pen­ing in Pales­tine, Kash­mir, Chech­nya, Iraq and Afghanistan is legit­i­mate resis­tance against a bru­tal mil­i­tary occu­pa­tion, while crimes like 9⁄11 and the Lon­don bomb­ings are bla­tant ter­ror­ism. Equat­ing the two only betrays our broth­ers and sis­ters who have no oth­er option but to fight or face being wiped off the face of this planet.
The new slaves of the West crit­i­cize Islamist par­ties and gov­er­nance by Shari­ah. Even stu­dent and youth move­ments which con­sis­tent­ly cam­paigned for Pales­tine and Iraq have sud­den­ly lost their tongues in a bid to be seen as ​"mod­er­ate".
In Britain we have an inva­sion of what I call the ​"Hap­py Clap­pies". They are being flown in by the Gov­ern­ment from the US, Cana­da, Yemen and Mau­ri­ta­nia to preach a dilut­ed form of Islam. They are poi­son­ing the minds of our youth and we should be very wary before the Hap­py Clap­pies spread across the world. They attack Wah­habi groups in the most cyn­i­cal man­ner. Some even mis­use nasheeds, and I am deeply afraid that the Hap­py Clap­pies are infect­ing our nasheeds with the excess­es of west­ern pop culture.
The end result of all this has been a dilu­tion of the deen of Allah (T), a weak and paci­fied Islam will­ing to accept the sta­tus quo in which Mus­lims are oppressed and sub­ju­gat­ed ; an Islam in which Mus­lims are con­tent to sing and dance the night away to nasheeds, to con­cen­trate on bet­ter­ing their life in the West and to con­demn the actions of their broth­ers and sis­ters who coura­geous­ly resist occu­pa­tion and oppres­sion with what­ev­er they have. Even mak­ing du'a for them now has become a crime. How long before we are told not to even pray for the mujahideen ?
One of the great­est mil­i­tary gen­er­al the world has known, Salahud­din Al-Ayyu­bi, the lib­er­a­tor of al-Quds, was once asked why he didn't smile. He answered back that how could he smile while he know­ing that Masjid al-Aqsa, remained under Cru­sad­er occu­pa­tion. I won­der what he would make of the state of the world today. I won­der what advice he would give our youth ? This is a world where Arab lead­ers bel­ly-danced shame­less­ly in front of Amer­i­ca while hand­ing Iraq over on a plate. The same Arab lead­ers look the oth­er way as our beau­ti­ful Pales­tine is con­tin­u­al­ly raped and sodom­ized, and that oth­er great daugh­ter of the Arab world, Lebanon — Where was the Arab world when she was so bru­tal­ly assault­ed ? And the war drums are beat­ing again. Not only is the whole world watch­ing, but so are our chil­dren, our youth, and our future. We must nature them, and inspire them with tales of the Prophet (P) and the Saha­ba.
As long as the Ummah con­tin­ues to throw up fig­ures like Khalid bin Walid, Salahud­din Al-Ayyu­bi, Sayyid Qutb and Mal­colm X, all is not lost. The more we are oppressed by the tyrants, the more we will fight back. That is the nature of Islam. And this is the Islam our youth need to fol­low, be guid­ed by and inspired. Farooq Hos­ni and his ilk are pale imi­ta­tions of real men. They have cas­trat­ed them­selves in a pathet­ic attempt to become more West­ern than the West­ern­ers. He will be con­signed to the his­to­ry books with bare­ly a sen­tence while the courage and hero­ic resis­tance of our broth­ers and sis­ters will go down in chapters.
A rapid­ly increas­ing num­ber of Mus­lim youth are now real­iz­ing that no mat­ter how hard they com­pro­mise their deen to blend in with the wider soci­ety, when things go sour, they will be treat­ed with sus­pi­cion. The more we are told to for­get shari­ah, khi­lafah and jihad, the more Mus­lims will pay the blood price to uphold these val­ues. The jihad we are wit­ness­ing in Pales­tine, Iraq, Afghanistan, Kash­mir and Chech­nya is some­thing noble, a just war against injus­tice and tyran­ny. The actions of the jihadists pose absolute­ly no threat to the West or West­ern lifestyles and their resis­tance is not only jus­ti­fied but embraced and encour­aged by inter­na­tion­al law.
The real reli­gious extrem­ists who pose the great­est threat to rad­i­cal­iz­ing our youth are the Chris­t­ian Fun­da­men­tal­ists in the White House and Down­ing Street. Bush and Blair have become al-Qaeda's finest recruit­ing offi­cers. More and younger Mus­lims are wak­ing up with the real­iza­tion that it is not ter­ror­ism or extrem­ism that is being tar­get­ed but Islam itself. It is up to the Ummah to lead and inspire our youth, just as the Prophet (P) led and inspired mil­lions and con­tin­ues to do so.
And the first les­son we must teach our youth is to fear none but Allah (T).