Reading Time:
6
minutes
Introduction
It has come to our attention that Avijit Roy, webmaster of the Mukto Mona website, wrote an article titled Does the Qur'an Have any Scientific Miracles? One portion of the article on the subject of Sura' az-Zaariyaat is worth commenting on, as it is an exhibition of some of the common problems with non-Muslim critiques of Muslim arguments over the Internet. These would include an unjustified confidence with the relevant subject matter, a poor understanding of the arguments involved and a possible tendency to bluff with the hopes that no one else notices.
What is at issue here is the fact that the word

(musi`un) in Sura' az-Zaariyaat 51:47 can be translated as "expanding", thus some Muslims have argued that this is a Quranic reference to the expanding of the universe. Whatever the soundness of that position, Mr. Roy's attempt to refute it included some statements that were so ridiculous that one could not simply let them pass.
Deceit or Sincere Ignorance?
One of the first statements that raised a red flag was one that attempted to lean on the arguments of Denis Giron.
Mr. Roy writes:
Denish [sic] Giron also explained in one of his wonderfully written pieces that the verb from which the Arabic word (musi'un) is derived cannot mean "expand"
Then Mr. Roy cites Giron's article entitled Expansion of the Universe in the Bible and the Qur'an: Comparing Isaiah to Soorat az-Zaariyaat.
The first problem is that Giron's article blatantly contradicts Mr. Roy's claim. In fact, Giron's article explicitly states that "the verb from which this word is derived can mean expand."
One has to wonder: did Mr. Roy even bother to read Giron's article? The simple fact is that Mr. Roy's argument says that the word cannot be translated as "expanding", yet he calls to witness an article that gives a rather clear argument for why it can be translated as "expanding"!
After that, Mr. Roy calls to witness an article by Ali Sina. In this case, Mr. Roy actually manages to cite a person who agrees with him, but Sina's argument is simply ridiculous, to put it mildly. Roy's mentioning of this article is appreciated, however, as it can serve as a prime example of Sina's total ignorance regarding the Arabic language. Mr. Sina argues as follows:
The word used here is moosiAAoona which drives from word vaseun. It means vast. It has nothing to do with expanding. When you say al rezwano vaseun (the garden is vast). It does not mean that the garden is expanding.
While this may seem like a case of belaboring a minor point, it might be worth noting that most people who employ a double-A ("AA") in their transliterations of Qur'anic words or phrases over the net are probably novices who merely lifted the relevant transliteration off one of the websites which provide this odd symbol as designation of the presence of the Arabic letter ayn. Regardless, Sina's attempt to prove that musi'un cannot be translated as "expanding" betrays a rather pathetic ignorance on his part regarding the Arabic language, and thus Mr. Roy's decision to call him to witness is a true example of "the blind leading the blind". Most ironic of all, the article by Denis Giron itself refutes Ali Sina's ridiculous claim.
The Islamophobes' "Expanding" Stupidity
As it was noted in Giron's article, and would be known by just about anyone familiar with Arabic grammar, a verbal root in Arabic can take different verbal forms (or known as wazan). The following chart will serve to illustrate the various forms of wazan in the Arabic language and this chart will form the basis of what follows.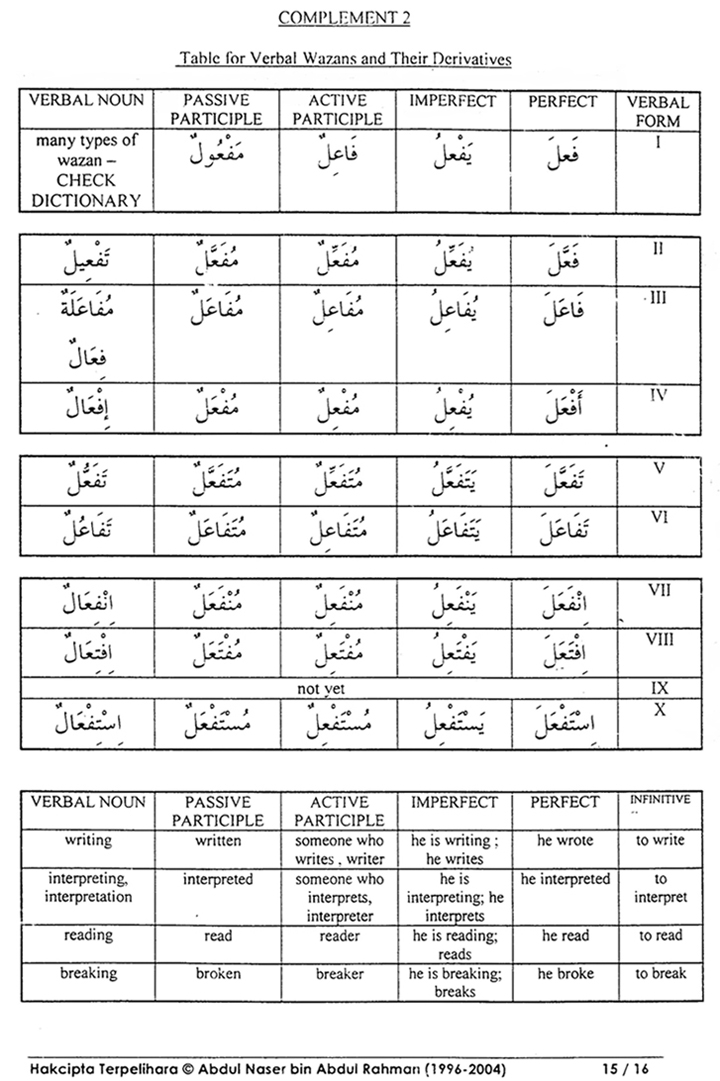 When the verbal root is in the
(af`ala) form (or, as Giron puts it, "the FORM IV verb stem"), it can take on a causative function.
E.H. Palmer states that:
E.H. Palmer, Simplified Grammar of Hindustani Persian and Arabic, 3rd ed., (Kegan Paul Trench Trubner & Co., 1890), p. 65
This is also expressed by Socin as follows:
A. Socin, Arabic Grammar, (GE Stechert & Co., 1922), p. 26
The word musi'un is the plural of a participle from the verb root in this verbal form, which is
(awsa`a). Thus, the related verb can mean something along the lines of causing something else to be wide or vast (i.e. expanding that thing). This is supported by various modern Arabic-English dictionaries and concordances.See, for example Rohi Baalbaki, al-Mawrid: Modern-Arabic English Dictionary, (Dar el-Ilm Lilmalayin, 1988), p. 1233 and Hanna E. Kassis, A Concordance of the Qur'an, (University of California Press, 1983), p. 1294. The latter gives the meaning "extend". Hans WehrJ. Milton Cowan, Hans Wehr: A Dictionary of Modern Written Arabic, 4th ed. (Otto Harrassowitz, 1979), p. 1251 gives the meaning "expand" under the form II stem for the root, and notes that the form IV stem can have all the same meanings as the form II.It should be noted that ibid., 2nd ed. (Cornell University Press, 1966), p. 1067, is exactly the same as the previous edition. For form II as given by Wehr, LaneEdward William Lane, Arabic-English Lexicon (Islamic Book Center, 1978), p. 3053 gives "made wide, broad, spacious […] amplified, enlarged, made ample".
As also has been noted in Giron's article, participles can be translated as the verbal form in the present tense. This is explained by Thackston, who says that:

Wheeler M. Thackston, An Introduction to Koranic and Classical Arabic, (Iranbooks, 1994), p. 58
Regarding the example provided by Thackston (saajid), it appears in the plural (saajideen) in Sura' ash-Shu'ara, 26:46. The reader might be interested in comparing all translations of this verse. Critics of the claim that m?si'un can be translated "expanding" (present tense) try and lean on the fact that "certain" translations don't render it that way. Looking at the translations with a non-controversial example such as Sura' ash-Shu'ara, 26:46 might be worthwhile because we see that while "certain" translations do not render the active participle as a present tense verb, others do (e.g. "prostrating" or "bowing"), and this is a very possible translation.
We are also told in another reference that:

Eckehard Schulz, Gunther Krahl & Wolfgang Reuschel, Standard Arabic (Cambridge, 2000), p. 280
One may ask, what does the derived participles from the verb signify? Kasis explains:
The participles are derived from the verb to signify the doer (active participle) or recipient (passive participle) of the action. In addition, they signify an action which may be temporary, continuous or in a habitual state of being […] The active participle is very frequently translated as an adjective or as a substantive noun. Thus katib may be translated, depending on the context, as either "writing" (adj) or "scribe" (n).Hanna E. Kassis, A Concordance of the Qur'an (University of California Press, 1983), p. xxxiv
Thus "expanding" is a very real meaning for the word musi'un. Our points above are hence summarised as follows:
(1) That the (Form IV) af`ala stem is causative.
(2) That awsa`a (or musi`) can have the meaning "expand".
(3) That active participles can be translated as present tense verbs.
But here is a food-for-thought for even those unfamiliar with Arabic to ponder. The word under discussion was
(musi'un). Yet Ali Sina went on to expound on the word "vaseun" without making any recourse to the word originally under discussion. It should be noted that there is no consonant "v" in Arabic. Perhaps he meant wasee` or
(waasi`). This is not a very subtle attempt of bait and switch, which makes one wonder how had this argument managed to fool Avijit Roy. Do these two men honestly believe that every word from the same root in Arabic have the same meaning? When trying to discuss the meaning of a word, why hinge your entire argument on the meaning of a completely different word? The question even those who do not know Arabic can ask Sina and Mr. Roy is: are we discussing thw word "vaseun" or are we discussing musi`un?
Conclusions
How seriously can Muslims take Ali Sina or his cohort Aijit Roy when they put forth such poor arguments which is reflective of their command in Arabic? Certainly when it comes to issues of Arabic grammar, even their supporters should not hold to closely to their arguments. Did either of these men honestly believe they could just bluff their way through these arguments? Or did they actually convince themselves that these were good arguments? What kind of (a lack of) attention is required for one to not realize that they are calling to witness an article which disagrees with the very core of their claim? How did Mr. Roy managed to attribute a claim to an article which states the exact opposite?
Now non-Muslim readers (particularly the supporters of Ali Sina or Mr. Roy) may object that we have not mentioned the fact that Denis Giron's article was attempting to disprove the claim that Sura' az-Zaariyaat is a scientific miracle. This was not the issue under discussion here. Note that we did not make any positive claim about this verse necessarily being an obvious scientific miracle, hence we are not under any requirement to defend such a position or refute every attempt to critique it.
However, it should be stated that Denis Giron's actual argument should not be considered terribly controversial by any Muslim who understands it. What was at issue here was the absurd level reached in these articles by Ali Sina and Mr. Roy in their attempt to tackle this issue. Can their supporters at least agree with us that in these instances, these two men committed some rather laughable errors and put on an exhibition of just how little they know about Arabic grammar?
And only God knows best!